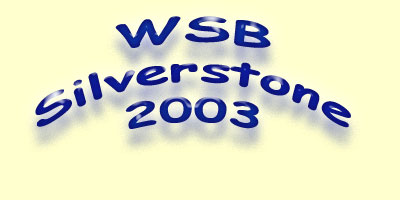 Soon to be 2003 WSB Champ Neil Hodgson on the factory Fila Ducati 999.
James Toseland on the HM Plant Ducati 998 he scored a second, & a forth in the races, & is now second in the championship. Not bad on last years bike on dunlops.
Ruben "Spiderman" Xaus on the second factory 999. He bagged a couple of thirds on the Sunday, & is third in the championship currently.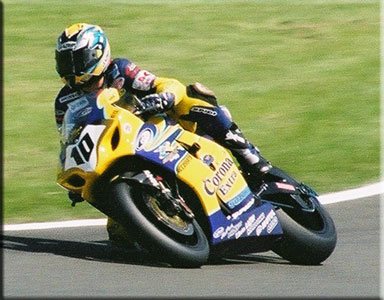 Gregorio Lavilla on the Suzuki proving the four cylinder bikes can compete against the Ducatis. He crashed in race one when looking for a podium, but bounced back for second in race two.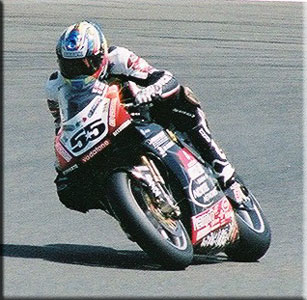 Régis Laconi on the NCR Ducati 998
Chris "The Stalker" Walker on the other HM Plant 998 Ducati.
Pierfrancesco "Frankie" Chili on the Ducati 998 Ducati is always popular with UK fans.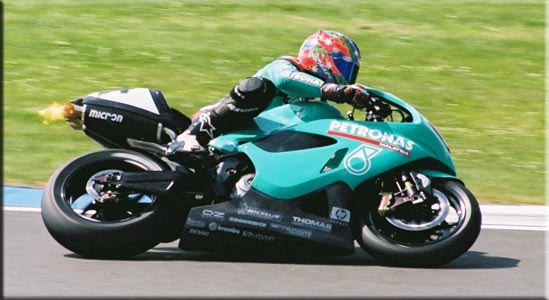 Troy Corser on the Foggy Petronas triple. Love those flames out the back, but it's a shame they are scrapping with the back markers instead of for podiums.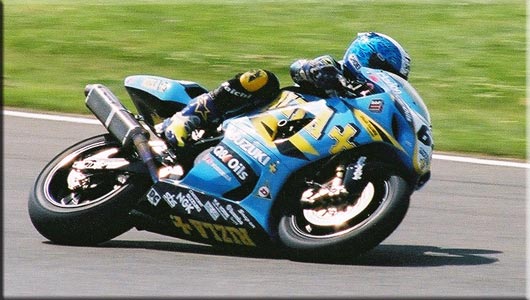 Yukio Kagayama on the Rizla Suzuki bagged a couple of fifths on race day. Not shabby for a wildcard rider.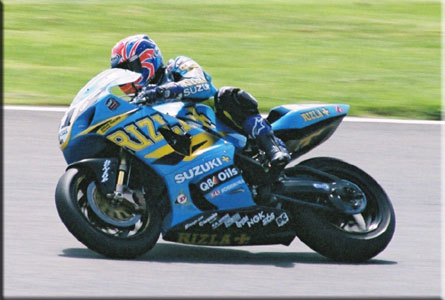 BSB rider John "JR" Reynolds on the other Rizla Suzuki.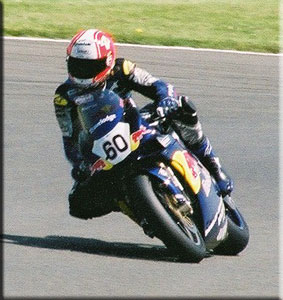 Michael Rutter on the Red Bull 998. He's second in the BSB series currently.
All these pictures were taken by me on Saturday 14th June 2003 during the practice day for the Silverstone W.S.B. round. All the shots were taken using my trusty old Minolta X700 camera, & 300mm telephoto lens on 200 ASA Kodak, or 400 ASA Fuji film.
I own the copyright on everything on this page, & if you want to pay me heaps of cash to publish any of it go on make my day. Copying for personal use is fine, but I would appreciate a link, & don't forget to state who has the copyright.
If you want larger versions of any of the pictures mail me, & I might oblige? Link at bottom of the page. Make it clear what you want, & it must not be for profit.
Links
I can't be responsible for the content of these sites.
Frankie Chili Troy Corser Official WSB
Now with added Facebook
You can mail me r_coughlan@yahoo.co.uk