Ally Pally show 2002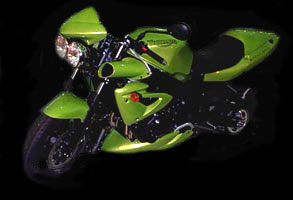 2001 BSB champ John Reynolds will be riding Suzuki this year as you can see from his shirt. Plus the the first showing of Triumph's Speed 4 "naked" bike. I've seen some pictures of it, which looked OK, but it's better in the flesh. I still don't like the bug eyes.

Suzuki B-King concept bike that may go into production? It uses a Hayabusa engine, & looks fantastic. Obvious successor to the Yamaha V Max in my book. This is the type of bike Honda should have built instead of the X11. I hope Suzuki stick to the concept not like Yamaha who managed to turn the stunning MT01 into the dull Bulldog. Plus Max Biaggi's 2001 Yamaha GP bike.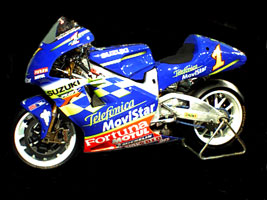 Kenny Robert's 2001 500cc V4 two stroke GP bike. In 2002 he will be on the all new 990cc V4 four stroke.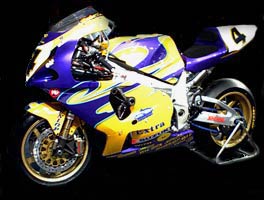 Suzuki 750cc WSB bike riden by Franki Chilli in 2001.
Now with added Facebook
You can mail me r_coughlan@yahoo.co.uk