In June, & July 2004 I was very lucky to be able to spend a total of 7 weeks on business in South Africa. I stayed in Sandton, & worked in Rivonia, which are both close to downtown Johannesburg. I managed to go on some good weekend outings, & trips alone, or with colleagues. Now read on...
Bakubung Bush Lodge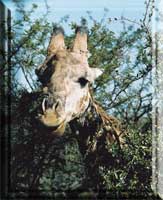 Bakubung Bush Lodge is in the Pilanesberg National Park just two hours drive from Joburg & is malaria free. Bakubung means something like "Place of the Hippo" & it's an old volcano crater. Located close to Sun City (imagine Disneyworld with gambling.) As you can see above we were able to see plenty of wildlife, although sadly we didn't see lions, a leopard, or black rhinos. Apart from the bull elephant, giraffe, zebra, & hippo above we watched "white", or wide mouthed rhino, wart hog, baboon, kudu, impala, wildebeest, secretarybird, waterbuck...
We I.E. Ben from B.T. & I traveled by "luxury" minibus from Joburg on the Saturday to Sun City, & then got the shuttle bus to Bakubung. We went on a game drive on Saturday afternoon, & another Sunday morning then retraced our steps to Joburg. My room was very nice, although basically I only slept in it. We were advised that we did not need to book a game drive in advance, but this turned out to be bad advice. Luckily we were able to go on a Sun City drive on Saturday, & the Bakubung version on the Sunday. You can drive around in a regular car if you wish as some of the roads have tarmac on them there's even a tea room half way around plus a few hides where you can get out of the car.
Kirstenbosch
Botanic Garden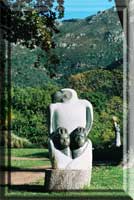 After landing in Cape Town I got a shuttle from Citi Hopper to Kirstenbosch Botanic Garden, which was good. It was a beautiful day for a walk, & I spent about 4 hours here. The sculpture above was called something like "Eagle Protecting Twins." Whilst there I saw various birds including Cape White-eye, Lesser Double-collared Sunbirds on the bird of paradise plants, a Burchells Coucal, & three mongeese. The building in the other picture was the tea room where the view was not too bad!
I flew down to Cape Town early on Saturday morning with Kulula.com, & stayed at one of the Holiday Inns downtown. On the Sunday I went around the V&A Waterfront, which was good, although very tourist orientated. I went in the crafts shed, Maritime Museum, weaving shed, Two Oceans Aquarium...
I wished to go on the cable car, but as it rained on the Sunday it was shut, so instead I got a cab to the National Gallery, which is next to the Parliament building. They had a temporary exhibit for the first 10 years since democracy, which is all good, but it was modern "art", which often leaves me either cold, or annoyed. Give me a good impressionist any day. I flew back to Joburg late on Sunday afternoon. It's only a two hour flight. When I got back to my hotel England were beating France 1:0 in Euro 2004, & there was about 5 min.'s to go. What went wrong!
Boulders Beach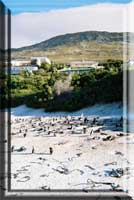 Boulders Beach at Simon's Town not far from Cape Town is the only mainland penguin colony in Africa. I got a cab here from Kirstenbosch. You see Jackass, or African penguins. They are noisy, & smelly, but don't you just luv em? Whilst there I also saw a Hyrax. I did go for a paddle, & the water was very cold. There's a train station in Simon's Town, but I would advise the safer option of a cab ride. On the way back to Cape Town I asked the driver to take me via Hout Bay, & Chapman's Peak Drive (toll road) as the staff back in the office said there was a nice view rather than take the motorway. It was very pleasant, although it was getting dark. It's 1200k further south in Cape Town, & so gets dark earlier in the winter. My driver took me the scenic route through Campus Bay, which is supposed to be a the posh end of town.
Marievale
Bird Sanctuary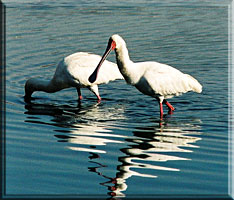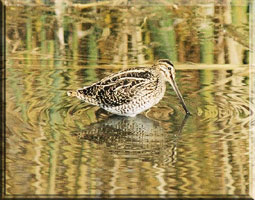 The sanctuary is in the gold fields less than an hours drive from Sandton. It's a fairly large area so you drive from hide to hide & we viewed about 50 species of birds, of which 40+ were new to me. See bird list at bottom of page. Above are African Spoonbills, & an Ethiopian Snipe. I'm very grateful to the Des, & his son who came out of their way to pick me up, supplied binoculars, picnic, helped me identify the birds, & then would not take any petrol money.
De Wildt
Cheetah Centre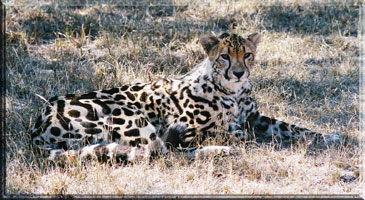 I was able to go to the De Wildt Cheetah Centre with my colleague Steve to whom I owe a big thank you. It was excellent, & only about an hours drive from Sandton. The visit is very educational, but don't panic you get to see loads of animals. They had regular and "King" Cheetah like the one above, which are very rare. Kings have darker markings as you can see, & are sometimes mistaken for a leopard. King cheetah were not "discovered" until the 1920s, & then thought to be a separate species, or a cross-bread, but it's a genetic thing, & if the right parents breed you have a chance of getting a King Cheetah cub.
De Wildt were the first to bred, & keep alive cheetahs in captivity, & are trying to work out how to release captive born cheetahs? One of the main problems is that captive animals are used to dead meat, & wild ones have to chase, & kill stuff. Captive bread animals are also to used to humans, but De Wildt are working on it. The centre provide captive bread animals for zoos around the world. Wild cheetah usually die quickly in a zoo as they either starve, because they won't eat dead meat, catch something like cat flu, which they have no immunity to, or just get too stressed. De Wildt also keeps a stud book for captive cheetah so that they can work out which can breed with which?
We paid a bit extra to stroke Byron a two year old male cheetah. I had mixed feelings about that, but where else in the world can you stroke a cheetah & the centre got a few extra rand. He was purring away when we got our turn with him.
Plus, we observed wild dogs, 4 species of vulture, monkeys, brown hyena, a hammerkop, a caracal, blue cranes, ostrich, a nyala, impala, honey badgers both regular, & an albino... The animals are orphaned, injured, or born in captivity, & cannot be released. They have about 120 cheetah on the farm, & to say these people are saving the cheetah from extinction is 100% true. They are located close to the Hartbeespoortdam as is the elephant sanctuary below, which we visited on the same day.
Elephant Sanctuary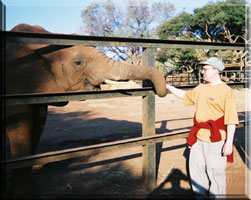 This is me feeding an elephant at the sanctuary where we had a very pleasant afternoon. We had a bit of introductory chat then were taken out to the woods where the elephants were brought to meet us. They had 5 teenage female elephants, & a 3 year old male for our part of their program. You can also stay at the centre, & ride elephants, etc. We were told about the animals, & then able to feel them. Their skin is a bit like old cracked leather. It's much softer than you would imagine. The females have two nipples between their front legs a bit like humans then. They also live about 70 years.
We were then able to take them on a short walk through the woods whilst the elephant holds your hand with it's trunk, & you can feel it's warm breath on your hand. We were shown around the property, fed the elephants, & finished with a drink on the verandah at sunset. They also had a few meerkats at the sanctuary as well, which were chasing around in the elephants paddock. The same day we also went for a ride on the Hartbeespoortdam Cableway to see the view.
Johannesburg
Botanic Garden
I actually wanted to go to the Walter Sisulu National Botanical Garden, but welcome to Africa mate! Don't expect African taxi drivers to know where they are going. Still I had a nice walk around the Joburg version. It's winter in Southern Africa in July. So it's dark before six, cold at night, although it was sunny most days, & a very pleasant 20C at lunchtime.
The garden was very dry as there's little rain in Joburg in the winter unlike Cape Town on the coast. This does also mean they get very little frost. In fact wild fires are a problem in the winter. The plants go green towards Xmas time when it is hot, & sometimes wet. The bird above is a fiscal shrike, which are very common. I just like the beige, gray, brown against the bright blue sky in this shot.
Links
I can't be responsible for the content of these sites.
Bakubung Bush Lodge not cheap, but very nice.
Marievale Bird Sanctuary where I saw Ethiopian Snipe, African Rail, Black Egret, Blacksmith Plover, Purple Gallinule, Redknobbed Coot, Reed Cormorant, Yellowbilled Ducks, Hottentot Teal, Spurwing Geese, a Water Mongoose...
Boulders Beach at Simon's Town. It's all about the Penguins dudes.
Elephant Sanctuary where I touched elephants, & watched meerkats.
The De Wildt Cheetah Centre where I touched Byron the cheetah.
Kirstenbosch Botanic Garden very nice walk & a good place for a cup of tea or lunch.
Johannesburg Botanic Garden my favourite price IE free, but is it safe?
V&A Waterfront named after Queen Victoria, & her fourth child Alfred. That's right not her husband Prince Albert as you might have guessed? Watch out for that one in quizzes you just might win something?
Two Oceans Aquarium in Cape Town. I.E. Atlantic & Indian.
National Gallery in Cape Town also called Iziko?
Holiday Inn "Waterfront" where I spent my one night in Cape Town. I think calling it waterfront is pushing it a bit, although I admit I could see the V&A waterfront from my 12th floor room. They run a very affordable shuttle to the V&A Waterfront. I did check out the Cullinan Hotel next door, but it was way much more than I wanted to pay. I would have liked to stay in a small hotel, or B&B, but kind of booked everything at the last minute, as you do, so went for the easy option. I booked my room online.
Lastminute.co.za I didn't actually book anything through them, but did do some research like price checking... When it actually came to booking I found that if you didn't have a local credit card you had to ring up instead of book online, & then the price shot up. E.G. they had a weekend in Cape Town for 1600 rand, which was about 150 quid, but when I 'phoned up it shot up to about 4500 rand.
Crowne Plaza Sandton where I spent seven weeks.
Magic Bus who did some of my transport. E.G. they run a shuttle from Joburg International to 5 hotels in Sandton including the Crowne Plaza, which is much cheaper than a cab. A cab was about 250 rand, & the shuttle just 95. They also have a service to Sun City.
Kulula.com budget airline, but as they say I'm sure other fine airlines are available. Joburg to Cape town is 1,200K, or about 750 miles, but under a two hour flight. I booked my flight online.
Virgin Atlantic who did my long haul stuff. It's an 11 hour night flight London to, or from Joburg. It was a business trip that my company paid for. I did do some work between trips honest. The cost for Premium Economy was about £1550 return. I think economy is about £550? On one of my trips I got upgraded, which was very nice thanks. Also, on one of the flights they had the system where they have over 50 films on board, & you can stop, start, pause, rewind, fast forward them... great fun once you get the hang of it.
Bird List
I don't usually bother, but as it was a special trip why not? Not a huge list out of 900 species available, but then I only did half a day of bird watching. I would recomend Newman's Birds of Southern Africa by Kenneth Newman (ISBN 1868727351) as a good all round bird guide. It's listed on Amazon...
1. African Black Duck
2. African Black Oystercatcher
3. African Marsh Warbler
4. African Spoonbill
5. Black Crake
6. Black Egret
7. Blackeyed Bulbul
8. Blackheaded Heron
9. Blacksmith Plover
10. Blackwinged Stilt
11. Blue Crane
12. Burchell's Coucal
13. Cape Griffon Vulture
14. Cape Shoveller
15. Cape Teal
16. Cape Turtle Dove
17. Cape Wagtail
18. Cape White-eye
19. Cattle Egret
20. Crested Bulbul
21. Crowned Plover
22. Dabchick
23. Egyptian Goose
24. Egyptian Vulture
25. Ethiopian Snipe
26. Eurasian Sedge Warbler
27. Fantailed Cisticola
28. Fiscal Shrike
29. Glossy Ibis
30. Glossy Starling
31. Grassbird
32. Great Crested Grebe
33. Grey Heron
34. Grey Lourie "Go away bird"
35. Hadeda Ibis
36. Hammerkop
37. Helmeted Guineafowl
38. Hottentot Teal
39. Indian Mynah
40. Jackass/African Penguin
41. Lappetfaced Vulture
42. Laughing Dove
43. Lesser Double-collared Sunbird
44. Levaillants Cisticola
45. Masked Weaverbird
46. Neddicky
47. Orangethroated Longclaw
48. Ostrich
49. Pied Avocet
50. Pied Kingfisher
51. Purple Gallinule
52. Red-billed Oxpecker
53. Redbilled Quelea
54. Redeyed Dove
55. Redknobbed Coot
56. Reed Cormorant
57. Rock Pigeon
58. Sacred Ibis
59. Secretarybird
60. South African Shelduck
61. Southern Black Tit
62. Spurwinged Goose
63. Stonechat
64. Swainsons Francolin
65. Threebanded Plover
66. Whitebacked Vulture
67. Yellowbilled Duck
Practicalities
This was written in 2004 so if you are looking at this in 5 years time things will have changed!
Cabs - make certain that you agree the fare with the driver in advance as I did. If he puts the meter on it will cost much more. It's a good idea to know where you are going as well, don't expect the driver to know! Try to get a tourist leaflet, or print something off from the web in advance. It also helps with the language barrier as well if you can just point, & say "I won't to go here." Most cab drivers in the larger cities speak a little English. Be careful about cabs. Either get your hotel to get you one, or go to a proper cab rank. They often offer business cards, & this can be handly as you can 'phone them to get your next ride, or get a quote for something you want to do. You can book a driver for a whole day if you want? I was quoted 550 rand, or roughly 50 quid for this. A fair bit to pay on your own, but not so bad if you can split it with somebody?
They drive on the left in South Africa as we do in the UK, although they have gone metric so distance, & speed signs are in K. I only drove once, but it was fine. Cars, & car hire cost about the same, but petrol is half price, & there are loads of garages. The price of petrol is regulated so you pay much the same at any petrol station. Traffic lights are called robots for some reason, & when you pull up people try to sell you all manner of stuff before the lights go green. Keep your doors locked for your own safety. Be careful about your security especially after dark. Keep anything valuable out of site... In built up areas you need to go most places by car. Often at a car park a guy is looking after the cars, & will ask for a little change for his trouble when you leave, which is fair. Sometimes when you drive out of places (especially after dark) they will shine a torch into the car to ensure the key is in the ignition, or they may even make you take the key out, & show it to them before being allowed out. If you go to Montecasino (think Disneyland with gambling again) you have to leave your gun (if you have one) in the gun safe, & go through a metal detector to get in.
In rural areas watch out for the wildlife. I was surprised that the Hippo is a deadly animal. They come out of the water to feed at night, & can travel long distances especially in the dry season. They have huge tusks, weight over a ton, & can travel at 30 mph for some distance so all in all best avoided. In particular don't get between Hippos, & water. Do not go near any young animals as the mother may be near by, & watch out for snakes some of which can kill...blah blah blah.
The currency is the rand, & I was getting between 10.5, & 11.5 to the pound. In built up areas there's loads of cash machines, but be careful using them especially if you are on your own. Most things were the same price, or cheaper than the UK. Credit cards are accepted most places. We left tips of about 10% if the service was OK, which generally it was. I don't think I had a bad meal in 7 weeks. Worthy of mention are The Meat Company if you just want a huge steak, or Wang Thai near the Nelson Mandela statue at Sandton City does good Thai food as I expect you could guess? In the restaurants the menu is often dominated by chunks of meat, or fish. Not so good if you are a veggie? Alcohol, smokes, & eating out are cheaper than the UK.
If you want the prices, opening times, or exact locations of anything best to check the links above.
Most of these pictures were taken by me using my 20 year old Minolta X700 camera, & 75-210mm zoom lens on 200 ASA film, which I then had scanned to CD. I could have used much slower film, but that was what I had with me. A few were taken with an Agfa single use camera, or by other folks.
If you want larger versions of any of the pictures, or more information, e-mail me & I might oblige? Address at bottom of the page, but please make it clear what you want as my mind reading skills are not as they used to be.
Now with added Facebook
You can mail me R_Coughlan@yahoo.co.uk.