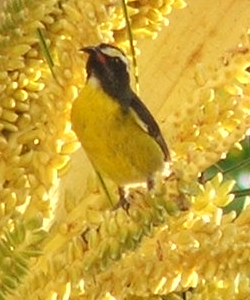 In 2009 I had a wonderful 12 day trip to Barbados staying at the Sugar Cane Club Hotel & Spa near
Speightstown on the West coast
. I won the trip in a competition & it was paid for by those nice people at Splenda. The trip included economy flights with Virgin Atlantic, travel insurance, transfers in Barbados, & all inclusive at the Sugar Cane
Club
.


I went on my own & had a real nice time just relaxing, touring the island beaches... &
NOT
getting sun burnt. I'm not a big fan of rum (Mount Gay & Malibu are both made there) but I did enjoy a few of the local Banks beers.The Sugar Cane Club is about 1km from the beach but they run a free minibus service to
Speightstown
,
the
bus station, & they have a beach facility on the West Coast near Mullins Bay where you can use a lounger, & get a complimentary cold beer (see picture far left.) The Sugar Cane Club has a nice garden with lots of wildlife like green monkeys, bats, toads, frogs, lizards, wood doves, humming birds,
bananaquit (see near left)
... Plus the usual pool, bar, restaurant, gym, but also has a day Spa & of all things a squash court! I didn't fancy a game as it was 28C in the shade during the day & 24C at night. The food was nice & the staff helpful. A bonus for me was that it was adults only at the hotel so no screaming kids or stressed adults. The actress Sarah Crowe was staying at the hotel but I was too shy to speak to her.


I visited Arlington House Museum in Speightstown, which was informative, & I enjoyed the Gallery of Caribbean Art although the pictures were a bit out of my price range! I also had a beer at the Fisherman's Pub next to the
Speightstown fish market. Another day I visited
The Barbados Museum on the outskirts of Bridgetown next to
Garrison Savannah where they have horse racing
. Plus I visited the Synagogue & Parliament Museums both in Bridgetown (the capital) about 40 min's away by bus. I had a look at the Kensington Oval where cricket is played. You can have a tour but the
day I went it was closed as they were working on a stage in the middle of the pitch. The local buses were very good & only cost US 75 cents or about 60p/trip. They have blue government buses which are just like buses anywhere but also smaller independent yellow buses
which are more like the dolmus you get in Turkey. They cost the same but the independent buses are more fun & have loud local music playing. The standard of driving was "interesting" to say the least. One of the buses I was on the guy who took the fares got off at some traffic lights, bought 2 bottles of Guinness & handed one to the driver when he got back on. I didn't try a "Zed R" or route
taxi as I wanted to survive the trip (only joking before anybody complains!) These are small white minibuses & the registration starts ZR hence the name. I didn't take a cab either but I know they don't have a meter so you agree the price before setting off & make it clear are we talking US or Barbados dollars? A US dollar got you 2 Barbados dollars in 2009 so it is worth checking.
I visited the Barbados Wildlife Reserve & next door Grenade Hall Signal Station which were both worth a quick look & a good place to see green monkeys as they feed them. I visited several gardens including Adromeda Botanic, Orchid World & The Flower Forest. All were small but interesting & informative. See picture far right of plant taken at The Flower Forest. Another day I visited Folkestone Marine Park & then St. James parish church parts of which date back to 1600's & is thought to be the first church on the island. It was very pretty in the style of a local UK church but the wood was dark mahogany & the stone white coral rock.
I visited a lot of the beaches by bus &/or walking and I did rent a car for one day. I think the best beach for me was Cattlewash on the East Coast with hardly a sole on it & postcard perfect views (see below left.) The West coast & South Coast beaches tended to be very busy with tourists & people trying to flog you stuff. That said a short walk or getting off at a different bus stop was often rewarded with an empty beach or one only used by the locals. EG Holetown is very busy & expensive but there are several nice quiet beaches nearby like Batts Rock. You can walk along the beach all the way from near The Oval, past the Malibu distillery, to Batts Rock as I did without anybody pestering me. At Batts Rock on Easter Monday there was a church group of mums & children setting up a picnic & they offered me lunch then had a good old sing song which was perfect.
Some of the signs & products tickled me. I did notice a sign at the Barbados Wildlife Reserve that said something like "If you find the cayman outside their enclosure can you let reception know" & I thought how often do they get out? Can't they get a better cage or something? H&S would have a fit about that in the U.K.
Drumstick
ice cream was another. So it's an ice cream but it looks like a chicken leg (see left.) Not sure about that one? I did try to buy one (just for research you understand) but they didn't have any so why put the sign out if you don't have the product?
I bought

The Rough Guide to Barbados
from Amazon before going to get an idea of what I wanted to do & also looked up some stuff online but I didn't want to "over plan" the trip or be rushing about every day. A couple of days I stayed in the hotel all day & read a book then had a swim or only went out for a couple of hours. They had Fox Soccer channel in the room so I watched a couple of Premiership games live which due to the 5 hour time difference started about 10:00 or at noon. As it was kind of a bonus holiday I didn't want to spend too much but then again I'm not going to be going every year so I did want to have a decent look about.
I never felt out of place or threatened but I didn't go out in the dark as I returned to the hotel for my prepaid meal, and drinks. All in all a very good holiday which I would love to do again especially if somebody else is paying!