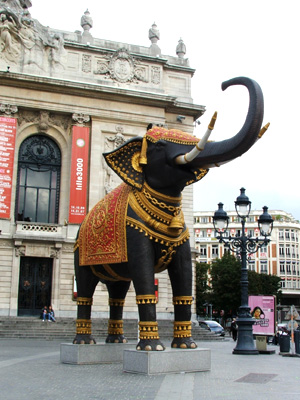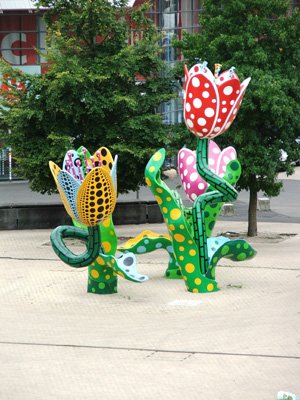 In September 2006 I had a short break to Lille in Northern France by Eurostar. I went on the Friday lunchtime train from London Waterloo and came back on the Monday afternoon. I stayed at the Holiday Inn Express as I had some points so that didn't cost me anything in cash & it was bed & buffet breakfast basis. Hotel was nothing special but it was nice & central. I booked this on line & then booked my train on line to. This was the first time I had been on the train to France as I've tended to use easyJet in recent years. Anyway it was all very easy. I love to claim it was all to do with my carbon footprint but I just thought I'd like to do something different.
The pictures above are of a life size elephant which was in front of the opera house & was advertising the Lille Indian festival. There was more detail in the pink poster in the bottom right of the picture. The tulip sculptures are near the Eurostar station & from when Lille was European City of Culture in 2004. They are on the edge of Parc Matisse not far from Porte de Roubaix or Roubaix gate. Also in this area is the L shapped building known by the locals as the "ski boot" but officially the Crédit Lyonnais building & a large shopping centre.
On the Friday afternoon I went to the tourist office for info & found my hotel. A large part of the old town is pedestianised & full of designer shops. Nice to window shop but a bit out of my price bracket. On Saturday I went first to the nearby food market next to the Sebastopol theatre then the Palais des Beaux-Arts or Fine Arts gallery on the Place de la République which was close to my hotel, & impressive for a regional town. Supposed to be the second best gallery in France? I also did a bit of virtual shopping in the old town, I went to see the book stalls at Vieille Bourse courtyard. Plus In the evening I had a look at Jardin Vauban & the nearby fun fair at Parc de la Citadelle.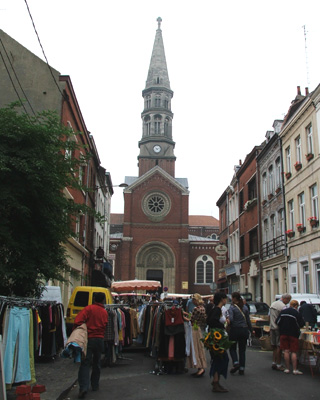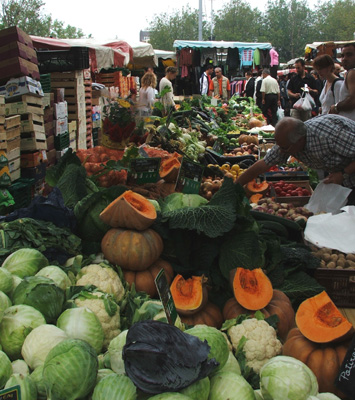 Sunday morning I went to the large Wazemmes market (see above) surronding the Saint-Pierre Saint-Paul church. The market is mostly outdoor but does have a small indoor food market. By Sunday afternoon I was getting the hang of the metro so went to Roubaix to see La Piscine Musée d'Art et d'Industrie. This is an art deco former municipal swiming pool that has been turned into an art gallery. Well worth a look. I also went to the Jardin des plantes or botanic garden which could do with a bit of work. In particular I wanted to go in the glass house but it was closed. What is it about France & stuff allways closed when you want to visit? It reminds me of the soviet era restaurants that were closed at lunchtime so that the staff could have their lunch. I also walked a lap of Parc de la Citadelle, which was very pleasant.
On Monday morning I went to Roubaix factory outlets by tram, but managed not to spend too much. Next I went to Notre Dame de la Treille cathedral which was under scaffolding for many years, but is complete now? It has ended up a rather interesting mix of the old & the new. One end wall is made of translucent marble which allows the light through (see pic's) below. I also went to Musee de l'Hospice Comtesse which is an old hospital.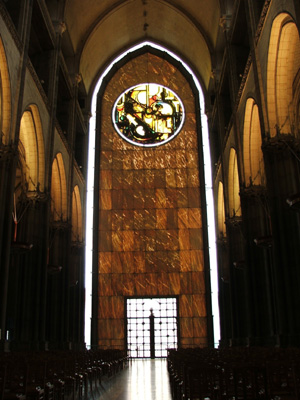 Lille is compact so I didn't bother with a hire car but walked & took the metro, or tram. It's a university town so there's some night life & affordable places to eat. I recommend it as a destination for many. It has culture, shopping, & even a decent football team (not that I went to see them). By pure luck when I was there most of the museums & galleries were free, although normally you have to pay a few euros. I think I paid for l'Hospice Comtesse only?
Lille has several other galleries & museums which I either ran out of time to see or didn't grab my interest. I would have liked to have gone to the Modern Art Museum at Villeneuve d'Ascq & Fine Arts Museum at Tourcoing but was not especially interested in Charles de Gaulle's birthplace, the Natural History Museum, Zoo...
When you go to your local station to get a return you have to say the magic word Eurostar. Until you use the magic word they will try to sell you two single tickets at extra cost. I went from my local station to London Bridge & then as it was a nice day walked along the South Bank to Waterloo International.
Eurostar trains now leave from St. Pancras International chopping about 20 min's off the journey time each way.
There are some more pictures here.
Eurostar official website & their guide to Lille
La Piscine Musée d'Art et d'Industrie at Rubioux a short tram or metro ride away
Lille Indian Festival started October 2006?
Now with added Facebook
You can mail me r_coughlan@yahoo.co.uk