Loire Valley 2005
In June we spent 9 days in the Loire Valley in France visiting several châteaux, gardens, towns, villages, trying to spot wildlife, etc. We flew from Stanstead to Tours then picked up our hire car & off we went to the B&B or Chambres d'Hôtes if you prefer? It was at Mer which is between Blois & Orléans. Mer is a small town about 3k North of La Loire on the N152. We were very happy with our choice of B&B. Our hosts spoke some English & we have a little school French so we muddled by. Our itinerary was lightly planned although we did get a guide book & map before we went. The main idea was to visit a garden festival at Chaumont-sur-Loire. Although we have visited France several times we have never visited this area before, but think we will again sometime.
The next day we headed off to Chaumont to see the garden festival. We'd only just arrived when we saw a Crested Tit, which was a real bonus. I've only seen these in Scotland before, & J had never seen one. Didn't manage to get a photo, but a good start to the day. You can just go into the festival, but we paid extra to have a look around the château & stable block as well, which we enjoyed. The standard of festival gardens were very varied. Some were not much more than a "sculpture" and a few plants or just bare earth, but others had interesting planting... The festival is open all summer & the wildlife had moved in already like this green frog that had just caught a blue dragonfly. The blue venetian blind had water running down it, & was very attractive. The entry in the middle was from the local "council" if I remember correctly?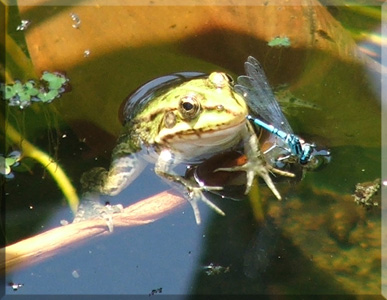 We visited Beaugency to see the birds from the town bridge. They have common, & little terns nesting on a shingle spit in the middle of the river. We also had a walk around this small town. We returned another day to have dinner in the main square. Near Orléans we visited the Parc Floral de la Source which was very nice. It gets its name from the spring which starts Le Loiret which at 12k is the shortest tributary to La Loire. The spring never goes below 12c so they are able to have flamingos which I associated more with southern France/Spain. We particularly enjoyed some of the borders, & the wickerwork area shown below. We visited on a Saturday yet it was surprisingly quiet. We did see three different wedding parties having photos taken. The dragonfly was holding onto the top of a plant label.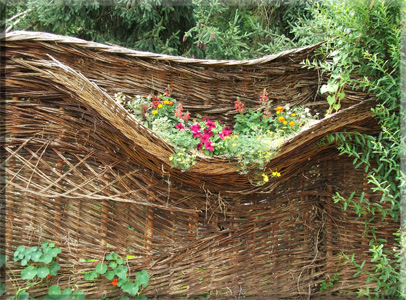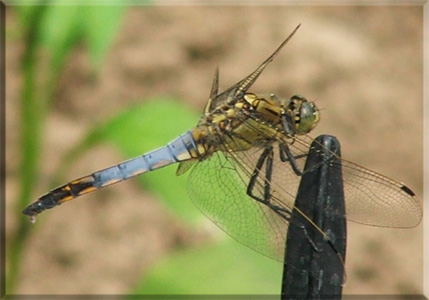 Blois was our nearest decent size town, & we often went there in the evening for dinner as options in Mer were fairly limited. Blois has four walking trails marked out with small bronze plaques in the old part of town some of which we followed. Also in Blois we visited the château to see the Son et Lumière, or light show. It's on most nights in the summer, & Wednesday in English. It was not getting dark until about 22:00 so the show was set for 22:30. We went into the inner courtyard & scenes, or tableau were projected onto the walls whilst a narrator told us about the royal connections, plots... Something I've not seen before but well worth a look.
We went to visit the Jardin Botanique du Prieuré d'Orchaise, but had to wait sometime before it opened. We got there in time to view the garden before lunch, but found it was only open something like 3pm to 7pm. Whilst we were waiting we went for a walk around the woods & streams in the area which was good, & visited the church, which appeared to have an old mural on the end wall, but after looking for a while J spotted the Tour de France reference over the right door. Anyway we eventually walked around the garden. Our hosts chatted to us in English, & offered us a drink when we had completed our visit. This was one of several places that we saw red squirrels.
Our B&B hosts lent us cycles, & we used them to go to Chambord Château which was a large royal residence with hunting in the woods. It has a number of marked walking/cycling trails, & wildlife hides. The château itself is large & busy with tourists but we still enjoyed it. Some say it was designed by Léonard de Vinci whom I will come back to. In our area were a number of marked cycle routes some of them mostly off road. We noted quite a few of these orange butterflies, which I think are Silver-washed Fritillaries. This one had taken a shine to J's bike.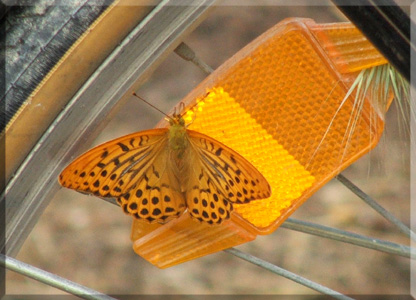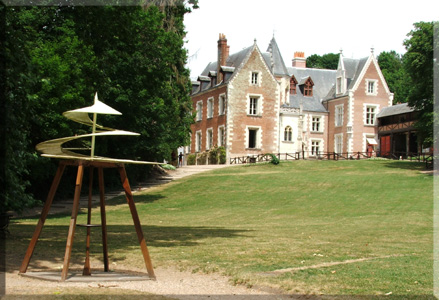 We visited Amboise which we both felt was a bit too touristy, but we enjoyed Le Clos Lucé (above) which is where Léonard de Vinci spent the last 3 years of his life. It was busy but we both enjoyed it. You can tour the house then in the gardens apart from the obligatory shop, & tea room are working recreations of some of the great man's inventions... He had the famous painting "Mona Lisa" with him in the house.
Cheverny Château was a little disappointing. The house is very impressive, but it did appear a bit more commercial than some of the others. I understand these places must cost a fortune to run. However, in particular we were disappointed that unlike many of the others we visited you are restricted to the immediate area of the castle. If you want to view the grounds you have to pay extra to go in a golf buggy/electric boat package. This was to "protect the wildlife" yet they have a hunt with a pack of dogs twice a week. Does that not upset the wildlife? The house in the Tintin books was modeled on Cheverny. The Tintin exhibit was also good, although as it is approved why could they not have shown some longer chunks of the cartoons? In the grounds is an Orangery in which some of the art treasures from the Louvre were stored during WW2 including "Mona Lisa", but you can't go inside because is is reserved for private functions. On the day we were there it was locked & empty why not open it, & have a little display that can be quickly removed when it is booked?
On our last full day we visited Chenonceau Château on the Cher river literally it is built out over the river. This was over an hours drive but worth it. Another busy one, but we enjoyed it. Lots of history & the castle is well worth a visit. We also enjoyed the gardens, walled farm area, & the woods. You can also visit in the evening when it's cooler, & they play classical music in the formal gardens.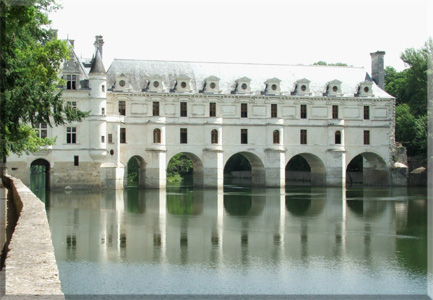 We were seeing signs warning that certain roads would be closed on the 5th, or 6th July for the Tour de France. Finally when we were waiting at the airport to come home we noticed some snappers hanging around then some Giant & T-Mobile branded vehicles turned up, & the whole T-Mobile Tour de France team including Jan Ullrich one of the few to beat Lance Armstrong in recent years. They were on a training run for the tour, & a bit of publicity.
We may go again to the same area as there's still plenty to do. We didn't go into the centre of Orléans with it's Joan of Arc connections, or Tours where they have a large market on Saturdays... Blois has a number of small museums to visit such as the one to Houdini who was born in the area. Maybe combine it with the French MotoGP at Le Mans now that's an idea? Perhaps next time we will go further downstream between Tours and Angers?
There's some more snaps
here
.
Links
I can't be responsible for the content of these sites
We flew to Tours Aeroport with Ryanair a budget airline like easyJet...
We rented our car from Holiday Autos part of Lastminute.com
We stayed in a B&B which we booked through Stopover Connections
Direct link to B&B "Le Clos" in Mer
We left our car with Pink Elephant at London Stansted Airport

The Garden Festival was at Chaumont-sur-Loire between Blois and Tours
The Son et Lumière was at Blois Château
We enjoyed Parc Floral de la Source near Orléans
Le Clos Lucé final home of Léonard de Vinci in Amboise
Chenonceau Château
Chambord Château and parkland
Jardin Botanique du Prieuré d'Orchaise and fresco in the church next door. Can you spot the cyclists?
Mer has a local SNCF station with infrequent trains, but the fast TGV stops in Tours & Orléans. You could fly to Charles de Gaulle Aeroport then get on the train, or get the Eurostar to Lille or Paris... The area we visited was mostly along the N152 close to the A10 which is a toll road or péage. It's only a couple of hours drive from Paris.
Couple of cycling links I've found since we got back Loire Nature Cycle and Loire by bike.
Now with added Facebook
You can mail me r_coughlan@yahoo.co.uk