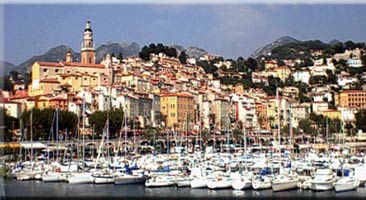 In September '02 we flew to Nice in the south of France, & then took a coach to Menton for a ten day stay. Menton is on the Med., & Italian border. I.E. bottom right corner of France when looking at a map. We went to Nice in '99, & liked it so thought we would give Menton a go, & very happy we are with our choice. When I was researching Menton it struck me as a mini Nice, & so it turned out. There is a casino if that's your thing? There are two ports, & several small beaches. Plus several small galleries, museums, & gardens. It has a main SNCF station with links to most of the towns along the south coasts of France, & Italy such as San Remo, Monaco, Nice, Cannes, & further to Rome, Milan, & Marseilles... It also has a bus station for local trips, but mostly we walked. The town is not that big especially the old town where most of the cafes are, & the covered market. It has a promenade along the entire sea front, plus the adjoining resort of Roquebrune-Cap-Martin.
You can walk from Menton all the way to Monaco if you wish, & we did. It's only 5 miles, or 8 kilometers with several resorts along the way to break your journey. You can also take a train as we did, (or coach) to Monaco. In Monaco we arrived at the all new station. We went to see the sculptures in the Casino gardens like this huge giraffe, & generally window shopped in the designer stores. We also explored the exotic garden, which is up the hill overlooking the Monaco stadium. We realized that Monaco football team had a home game whilst we where visiting, but were not sure about getting tickets so didn't go. Even later we found that the San Remo Rally started the day after we came home. So much for advanced planning, & we missed the final of the French Supercross season at Nice too. Maybe next time?
This picture was taken at the Jardin Exotique (exotic garden) Val Rahmeh in Menton. It's close to the Garavan port, & well worth a visit when open. These are the same water lilies that they grow indoors at Kew gardens in London. We got caught out a lot on opening times on this trip. You should expect things to be shut between noon, & 2pm in France, but this garden shut later, & didn't reopen until 3pm. We also visited Le Jardin Serre de la Madone, at which you currently have to go on an organized tour. Next summer they plan to have general admission. Only 6 were on our tour, which was mainly in French, but our guide, who was the landscape gardener for the project spoke good English, & we muddled through. This garden is a bit like the Lost Garden of Heligan in Cornwall. The Heligan garden declined after most of the young gardiners went off to war, & many did not return. The French garden was established in 1924 by Lawrence Johnson who was a rich American anglophile. He established Hidcot Manor in England as well. Hidcot is owned by the National Trust, & is the second most visited UK garden. He volunteered for the Boer, & first world wars, & got gassed. Eventually he was advised that his lungs would never recover, & he should spend the UK winters in a better climate. He then bought the French property, & set about getting a garden built. Eventually he died in 1958, & after a couple of changes of ownership, the garden became more, & more neglected during the 80's, & 90's, which led to it being purchased by the Conservatoire du Littoral (French National Trust) in '99. They have been restoring it ever since. Many of the original plants were the first examples in France, or sometimes in Europe. Hidcot has been supplying some of the replacement plants.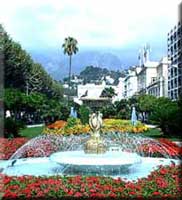 Menton has a micro climate as it is sheltered between the hills at the back of town, & the sea. They claim 300 plus days of sunshine per year, & certainly we had ten sunny days without rain. They almost never have frost, or snow.This is the casino garden, & you can see the hills in the background. The main tourist office is on the right. We also went to the Cottavoz temporary exhibition at the fine arts museum, which was close to our hotel. We liked his work, which is impressionist I guess? It's built up with thick layers of paint, which gives a kind of 3d effect when close up. He uses loads of bright colours to, which we liked. In the garden sculptures are set amongst fruit trees, which appeared an odd combination, but why not? In the port area is a small gallery displaying the works of Jean Cocteau, which is worth a quick look so we did.
We had several trips out of town mostly by train. We went to Villefranche-sur-mer on a Sunday for the "antiques" market. We wondered around, & walked through the old part of town, which was very Terry Pratchett Discworld. We thought the town OK, but were more impressed by the next resort of Beaulieu-sur-mer, which had some fine old buildings, & a little sandy beach with watersports... Also, we went to Vintimille in Italy, which I thought OK, & J. didn't think much of at all. Atleast they now both use the Euro, & there's no passport control so it's nice, & easy. Maybe another time we will make it to San Remo? I think there will be another time.
Practicals
I think all details are correct at September '02?
Most of the gardens, galleries, & museums mentioned are shut between 12:00, & 14:00, but it does vary from place to place. Most of them shut one day a week usually Monday, or Tuesday, but again it varies. Most charge an entry fee of between 3, & 8 Euros. I.E. 2 to 5 pounds, or ask for a donation. Generally they open for less hours/days in the winter.
We flew with easyJet, had our holiday insurance with Norwich Union Direct, then got a coach, which we booked tickets for in advance. We went to the coach station office at Nice airport, & showed our confirmation e-mail to the chap who then issued the actual tickets. There was a coach on the hour during the day from Nice airport/aeroport to Menton via Monaco, which took about 90 min.'s, & it's air conditioned. You can ask the driver to stop at your destination if it's on his route, which ours was. On the return journey you have to wait at a proper stop, & make certain it has the little plane symbol. I think the coach is numbered 110, & usually has a plane painted on the side so it's easy to spot. It cost 25 euros (about £17) each return, & the tickets are only valid for 30 days. The website asks for your arrival date, & if you put in a date more than 30 days in advance warns you not to proceed.
There are 7 bus lines around Menton, & the buses are usually white. You need line 7 to go to Serre de la Madone garden. Each bus stop has a sign up telling you where you are, which lines stop, & if there's a shelter that normally has a map with a "vous et ici" red arrow. I.E."you are here". This can be useful if you are just trying to navigate around town on foot. We only went on the local bus once, but you could just pay the driver. I guess that if you want to use the bus a lot you can get a carnet I.E. 10 single trip tickets? The bus station is the Gare Routiere, & it's near the main train station I.E. the Gare SNCF.
There are three SNCF stations, but some trains only stop at the main SNCF station, which is sign posted from the casino garden. On week days there appeared to be a "tout gare" I.E. all stations train about every half hour, but on the weekend they were much less frequent. Menton to Villefranche-sur-mer was about six euros, or about four quid return each. If you want a return ticket ask for "allez et retour" at the ticket office. There are ticket machines at the stations, but they only take coins, & French credit cards. During summer you can get a "Carte Isabelle", which gives allday travel on the local area's trains for ten euros, or about £6.50.
It costs 46 cents (30p) to send a postcard, & you can get stamps from "La Poste". You get them from the machine, or queue up at the counter. The main post office is signed posted from the casino garden, & there's another at the Garavan port, but they will be shut at lunchtime, & on Sundays. I think Tabacs also sell stamps?
The main tourist office is on the right side of the casino garden if you are looking up the hill. There's another in the port close to the "bastion", which is a little fort with coloured tiles on the roof, & contains the Jean Cocteau collection. He also painted murals at the town hall, or "Hotel de Ville" in the marriage suite, but we never got to see them. There are loads of bank machines, & a few Bureau de change around town.
We stayed at the Dolphin Hotel, which cost 92 euros per night including continental breakfast. That's just over £60/night. The room had air conditioning, balcony facing the sea, & French cable TV. It is on the Promenade du Soleil, & there was some traffic noise, which we soon tuned out. If you want a very quiet hotel this may not be the one for you, but I would recommend it. It is about a ten minute stroll to the old town/port area, & five from the casino. There's an open air cinema about 5 min.'s in the other direction towards Roquebrune-Cap-Martin, but we gave that a miss.
Links
I can't be responsible for the content of these sites, but you may find them useful?
Official Menton website.
Unofficial Menton website.
Provence Beyond gives details of Provence outings. The coast is the Cote D'Azur, & the land behind is Provence.
Cote D'Azur galleries, & museums.
Serra de la Madone garden website currently in French, but supposed to be translated over the "winter" the chap informed us.
Hotel "Le Dauphin" (The Dolphin) our hotel.
Nice airport/aeroport site where we purchased our coach tickets.
easyJet who we flew with.
Now with added Facebook
You can mail me r_coughlan@yahoo.co.uk