For our holiday in 2004 we went to Torrevieja on the Costa Blanca (White Coast) in Spain read on to find out more. Torrevieja translates to tower old, & it is a centre of salt production. This was part of the attraction as we wanted to see some bird life. We visited the nature reserves at the salt flats, or "Salinas" of Torrevieja La Mata, & Santa Pola where we did see flocks of flamingos, black winged stilts, herons, a hoopoe, egrets, bats, etc. Plus a large, & colourful lizard. We had a very easy holiday with lots of walks on the beach, swimming in the Med for J, drinking coffee, or San Miguel (for me) in the shade. We visited several local beaches including Torrevieja obviously, but also Santa Pola, Guardamar del Segura, La Marina, Alicante... The statue on the left is in the harbor at Alicante.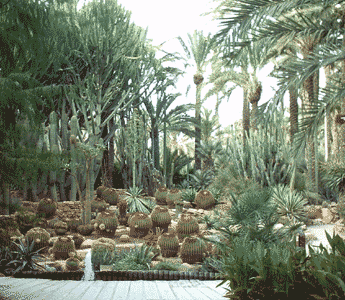 Inland we went to Elche, or Exe, which is a UNESCO World heritage site with maybe 250,000 palm trees around town. From some view points it looks like a palm forest with the odd building, but that's a bit of an optical illusion. We went to see the Parc Municipal (municipal park), & El Huerto del Cura "Artistic" garden, which you can see to the right. This is a small, but very attractive garden in the centre of the old town. Elche also has some fine buildings around the old city. You can get a walking tour map from the tourist office as we did. In particular we liked the Basilica de Santa Maria with it's blue dome. Elche was worth a longer visit as it has a modern art gallery, expo centre, Fiesta museum..., which were closed as we didn't arrive until late afternoon.
J took both these pic's with her digital camera a Fujifilm Q1.
Practicalities
We arranged the holiday ourselves booking everything online when possible - see links below. We were getting about 1.4 Euros to the pound. Most prices were similar to the UK, or less. In many ways it was like the UK, but hotter. English food was available in the supermarkets, & restaurants. Many of the "locals" were actually retired Brits...
The tourist office in Elche/Exe is in the corner of the municipal park where there is also a little museum, which again we didn't actually go in.
Links
I can't be responsible for the content of these sites.

Villa H98 in La Florida "urbanisation" area of Torrevieja where we stayed.

MyTravelLite we flew from Birmingham International to Murcia San Javier. MyTravelLite is a no frills carrier like easyJet, Ryanair...

NCP car parking.

CarJet hire cars.

Columbus Direct holiday insurance.

El Huerto del Cura garden cost €4/adult.
Now with added Facebook
You can mail me r_coughlan@yahoo.co.uk