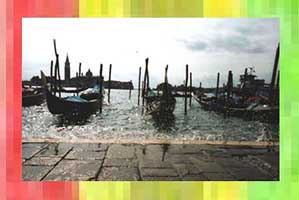 In September '96 we took a package trip with Thomson Travel to Lido de Jessolo, which is on the Eastern side of Italy about two thirds of the way up the "boot." Our main reason for choosing this resort was that it is a short ride away from Venice, but much cheaper. We visited for two weeks, & had four day trips to Venice. You can easily take a weekend trip to Venice as it is only two hours from the UK by air, & you can now fly from various regional airports. However, for a little extra you can make it your main holiday. This was our first trip to Italy, but I don't think it will be our last. On arrival at Venice's Marco Polo Airport we took a coach to Lido de Jessolo, but you can get a water bus, or taxi across the lagoon to Venice.
Venice is very busy between ten, & four when all the coach parties are there, but outside these times it can be surprisingly quiet. Like any tourist town Venice has some very pricey areas such as St. Mark's Square, & the canal side cafes where a coffee can cost several pounds. However, as always you can walk around the corner, get a fresh pizza from the bakery, & share it with the pigeons in the local square. Don't take a car unless you want to queue for ages, & then pay a fortune to park it. Take the bus, boat, or train.
Venice is like no other place I have been, & it was well worth visiting for a couple of days, or more if you can. It looks like you would think it does, but also there is a maze of little passages that run here, & there. Some parts are only accessible by boat such as the Armory, which you can go through on a water bus, or "Vaporetti". Sometimes you walk for what appears to be someway, but is probably not far only to come to the edge of a canal, & have to turn back. It is a good place to get lost in. With 'secret' squares to discover, parks, views across the lagoon, & you are not going to get run down by a car now are you!
Venice has several small art galleries often converted from redundant churches, which are well worth a visit. They had a Dali exhibition on while we were there, which we had a look at. The film festival is held in September, & screens are put up in public squares although I don't know how you get a ticket? The masked balls are held in February each year hence the masks in all the shops. Local glass is a favorite purchase if you can get it home in one lump?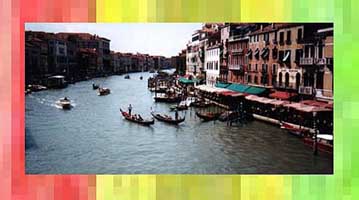 A good way to take in the sites, & rest those feet is to take a Vaporetti. You can get on, & off at any stop. There are route maps at most stops. You can also take ferries to Morano to see glass making, the Venice Lido (beach), & many other islands. There are something like one hundred islands from a speck to fairly large. We wanted to go to the cemetery, but ran out of time. Unless you are very rich you only get eight years in the ground then they dig you up, & take your body to the mainland then somebody else gets a turn. Italy being strongly Catholic most people are still buried instead of cremated.
Lido de Jessolo is a strip resort several kilometers long, but often only a few blocks deep. It has a good beach, & lots of places to shop, & eat. There are two campsites, a marina, & hotels from budget to 4/5 star. We were there in September when the wine festival is held, they have a parade of floats, hand out free grapes, & wine. Plus evening entertainment in the main square. The resort is flat, & the main street is traffic free so it is a good place for inline skating, cycling, or good old walking.
We were able to visit Venice either by bus, or bus/ferry from Jessolo. The staff at the bus station spoke some English, & were very helpful. Public transport in Italy is good value compared to the UK. We also tried a few words of Italian from the phrase book. Hotels in Italy are often family run, & full board appears to be the standard format. Many of the people there were holidaying from other parts of Italy. Each hotel has a private section of the beach with sun beds, & water sports, or you can wonder to the public part of the beach, which is quieter, but has few facilities.
Also, we visited Padova by train from Mestre. In the center of town they have some fine buildings, squares, & a local meat/vegetable market that includes a gallery in the center. The walled garden Hortus Simplicium is also worth a look. It has been there several centuries, & was established to grow plants for medicinal use.
Links
I can't be responsible for the content of these sites.
Now with added Facebook
You can mail me r_coughlan@yahoo.co.uk