For our holiday in 2001 we went to Barcelona, & very good it was to. We stayed for ten days, & traveled around the city by foot, & on the metro. It has some fine squares to sit enjoy a coffee, or a beer in the heat of the day, or warmth of the evening, & people watch. We enjoyed the street entertainers on La Rambla, some of them were very good, but others were a bit weak. Also, you got hassled every couple of minutes, & we preferred the smaller squares like Plaça Reial nearby. We visited La Boqueria market off La Rambla several times to buy fresh fruit. We even went to the beach a couple of times.
Barcelona has many art galleries, & we visited several including the Museu Picasso in the old town, which was interesting, but didn't have enough of his famous works. We also visited the modern art museum near the parliament, which was small, but good. Plus the Catalan art museum on Montjuic hill, which was also good. We took the funicular to get up there, which saved a climb in the heat. Whilst there we also visited the Olympic Stadium, & Mies van der Rohe pavilion. I wanted to see it as I had seen an interesting TV program about it sometime ago. It was built for the 1929 exhibition. At the end it was put up for sale, but not sold. It was then broken up, & the materials sold. In 1986 it was decided to rebuild it on the original site with only pictures, & memories to work from as the plans were lost. It's all polished marble, glass walls, & reflecting pools.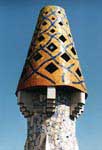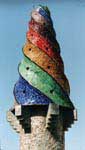 We visited many of Anton Gaudí's projects including Parc Güell, Palau Güell, La Pedrera, the still unfinished after 100 years Sagrada Fimiliar... Gaudí was one of the first people to show the iron structures of his buildings, & his buildings are full of curves, & use structures similar to natural forms such as trees to lighten the buildings. He always used natural light to its best effect, which can be seen at La Pedrera apartments amongst others. He also used a lot of ceramics, & some of his projects are wonderfully over the top. La Pedrera, or the "Rock Quarry" is a fine example of his work with iron railings flowing over the side of the building, & light wells built in to the centre. On the roof the chimneys look like centurions helmets. The Palau Güell , just of La Rambla has a skylight that resembles the moon, & stars. Some intricate ceilings, & on the roof are these wacky chimneys covered in tiles.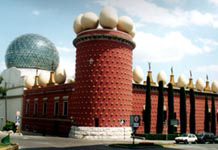 Also we visited the Salvador Dali museum at Figueres where you can walk around this stunning building containing his sculptures. I must admit that there aren't that many of his paintings on display, although I did manage to get this picture of one of the ceilings, but what is there is worth the 90 minute train journey, & queue to get in. It is the second most popular museum in Spain, which is impressive especially when you realise it is not in an urban area. The building was converted from an old theater I think, & has giant eggs on the roof, & statues on stacks of tyres outside... The town itself is worth a quick look with a fine central rambla of it's own. We went on a Sunday, & they had a band playing, & local people of all ages dancing around.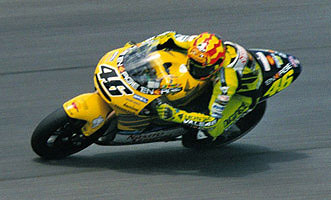 Plus we attended Friday practice for the MotoGP at Circuit de Catalunya where I took these pictures of championship leader, & eventual race winner Valentino Rossi. He looks odds on to win the championship at the half waypoint as he already has a good points cushion. Click on the picture to see more pictures of the riders. We traveled by train to Montmelo, & then followed the signs to the circuit. They were setting out bars in the street as we wondered along on a very hot day. Nice.
Our hotel was just off the Plaça de Catalunya, which was handy as you can get a bus, cab, metro, or mainline train from there. We were also close to La Rambla, & all of the old town attractions including the port, cathedral, opera, shopping, etc. There were loads of places to get a meal, or a drink close by. Our hotel was fine for the price. There was building work going on next door, which was a bit of a pain at times. The staff were good, & they spoke some English, which was a bonus to us, & the room clean. Bear in mind that the local people speak Catalan, which is similar to Spanish, but by no means the same. We also went to the aquarium, which was good. It is in a modern complex with eating, a cinema, Imax...
I would recommend Barcelona to anybody as a holiday destination. It has a winning combination of shopping, culture, nightlife, sports, & a beach. It is one of those rare places where you could do all these things in one day. Just like any other city Barcelona has it's rough spots, & I would just say as anywhere else in the world be careful with your stuff especially in crowds, & late at night. I noted that it says in the Rough Guide, which we took with us that sadly petty crime is rife in Barcelona.
Practicalities
We arranged the holiday ourselves booking the hotel, flight, & insurance all over the net. We took a copy of "Spain The Rough Guide" with us that was very helpful in working out what we wanted to see, & do. On arrival at Barcelona airport we caught a train to Plaça de Catalunya. It took about 30 min's was air conditioned, & cost 350 ptas each one way. Alternately, there are airport buses, & cabs. We then tried to get a cab to the hotel, but they wouldn't take us as the journey was too short! So we wondered around for awhile, & eventually found it.
The currency is currently Spanish pesetas, but changes to Euros soon. Most things were already marked up in both currencies. We were getting about 260 pesetas to the pound, & there were loads of machines to get at your money. As anywhere in touristy areas prices are marked up accordingly, but go round the corner, & have a meal with the locals as it's usually cheaper? If you are thinking of visiting several of the museums it is worth getting a pass, which is around 2,500 PTAs, or about ten quid, & can be bought at most of the larger attractions. The Olympic stadium is free between events. Single metro trips were about 170 PTAs flat fare, or you can buy multi trip/day pass.
La Boqueria market is open allday Monday to Saturday. Lots of shops open late, & stay open late especially in the old town. Some close for a couple of hours at lunchtime for a siesta. At the top end of La Rambla there is a supermarket where you can get your bottled water... The biggest internet cafe is the easy one at the bottom of La Rambla, but there are others. Many of the churches in the old town are open during the day, but remember they are still places of worship. The main post office is near the port, but I think you can also get stamps from Tabacs?
Links
I can't be responsible for the content of these sites.

easyJet who we flew with.

The Grau our hotel.
Now with added Facebook
You can mail me r_coughlan@yahoo.co.uk