In July '99 we flew with easyJet from our local airport Luton to Nice in the South of France for ten nights at the Eden Hotel on the Promenade des Anglais. There is plenty to do in, & around Nice with many museums, parks, gardens, opera house, Jazz festival, Carnival, markets, promenade, stony beach... It is also a good base for visiting the Cote d'Azur, & Alpes-Maritimes. On arrival we took the lazy way to finding the hotel, & paid silly money for a taxi ride.
Most of the attractions in Nice can be visited easily on foot, or by bus. The first place we decided to visit was the museum of Beaux-Arts, which is in a lovely building, & worth a look. They have works by Rodan, Degas, Sisley, Monet, etc. Next we tried to visit the Matisse villa, & collection which was closed as the Jazz festival is held in the grounds, & they were getting ready. Whilst there we took in the Cimiez monastery nearby, which has some celebrity graves such as the artists Matisse, & Dufy, pleasant garden, gallery, & views overlooking the town.
We visited the Marc Chagall museum, which was OK although not really my sort of thing, & the Russian Cathedral which I liked. Nice had a large population of Russians who visited in the winter for the mild climate. The Eden Hotel, & fine art museums were originally built for Russian countesses. The cathedral is like a mini Kremlin with tiled "onion" domes outside, & many icons inside. We visited during the day, but I did see a postcard of it at sunset, which looked even better. Both are close to the main station, or Gare SNCF, which is signposted around town.
Another day we took the narrow gauge train on a trip to Annot in the hills. This turned out to be well worth it with a chance to see the countryside inland rollby the window. The village has some lovely little passage ways leading between tiny houses. This old part of the village was very interesting. They have loads of water channels still in use , which presumably were originally used for doing the laundry? You can see large stone sinks with a hole in the bottom that you could cover to get them to fill. There are signed walks you can take from many of the stations along the way although we gave that a miss.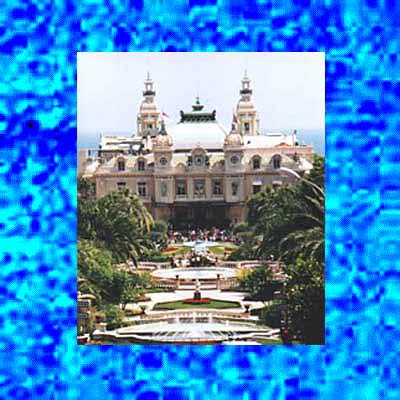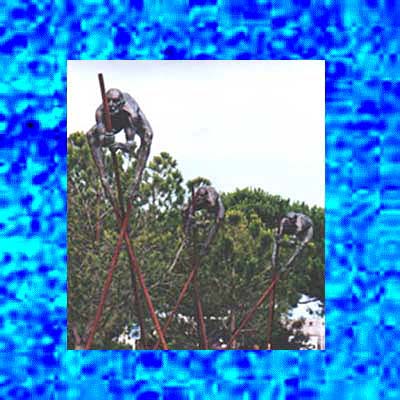 Also by train from the main SNCF station we visited Cannes, Monaco, & Antibes all are within 30 min's by train, costs under 50FF return, & I expect you could go by bus if you prefer? We enjoyed walking around the tiny streets of Monaco, with the palace, casino square, & fine public buildings. They have put in free lifts to help you get about the place, which is excellent on a hot day. I enjoyed trying to work out where the GP cars roar around. We had an enjoyable visit, although I'm not sure I would go again? I feel I have been there seen it done it. Antibes has a castle, port, some small beaches, Picasso museum (closed Monday), public sculptures with dangly bits, & a walled old town with little shops to browse in, which we both enjoyed. Cannes didn't do much for either of us. I expected it to be dead posh, & it did have some expensive hotels, designer shops, cars, & big boats , but it also had a large ugly modern building in the middle of the main beach (the cinema ?), & a fair bit of tat.
Back in Nice there are many public parks, & gardens where they sometimes have entertainment in the summer evenings. E.G. July 14th when there was a free firework display on the prom. We visited the Botanical garden, which I would say was for plant lovers mainly, but it was free, & we also saw some vivid red dragonflies there. The staff were very helpful, we practically had a guided tour, & came away with loads of leaflets. The Phoneix Park by the airport is worth a look to, but you have to buy a ticket. They have a large modern greenhouse with various zones inside, butterfly area, small aquarium, & bug house. In the grounds there are several small teamed gardens, & some sad caged birds to see. It is noisy due to the aircraft taking off, & landing. Whilst there we saw a wedding party having pictures taken.
Nice old quarter contains loads of churches, cafes, shops,& narrow alleyways. The flower market is there most mornings plus craft stalls in the evening. A climb up to the old chateau is rewarded with dodgy gift stalls, waterfall, cemeteries, & fine views of the resort. There is a lift if you don't want to walk up? Further along is the port area, which is attractive, with more cafes, & you can take a boat trip, or the Corsica ferry. One of Nice's main attractions is the Promenade des Anglais, which is good for a walk, cycle, skate, or sit as it is wide, & they put out loads of chairs. If you wish you can walk most if not all the way from the port to the airport without crossing a road. If you hate plane, or traffic noise then this might not be the best resort for you due to the busy road, & the airport at the end of the resort.
Practicals
I think all details are correct at July '99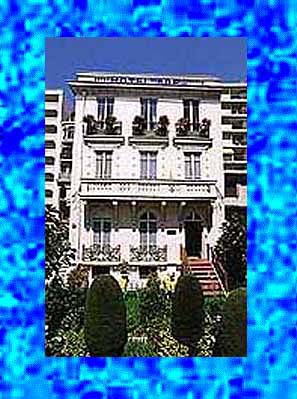 The Eden Hotel was fine for a two star. It's address is 99 Promenade des Anglais. It is not too expensive, & the staff speak some English. It is set back from the busy main road, & there are only a few rooms. It has a small patio area for relaxing, & breakfast. If you want to have breakfast at the hotel it costs 30FF extra per person per day. Our room was nothing special, but we had the cheapest room which cost 290FF per night, & they added on about 70FF for tax. Round the back is a small parking area, & parking elsewhere in town is real tough.
Nice is easy to reach by road, rail, bus, or air. It has the second busyest airport in France. You can even put your car, or motorcycle on the motorail if you can afford it. A bus "Sunpass" was 21FF per day, or 8.5FF per trip for most rides. The Airport bus runs along the Promenade des Anglais, & was 16FF, but the 23 also goes to the airport. You buy regular tickets from the driver in cash. If you want a weekly bus pass you have to get it from the main office near the bus station, & they have free maps to. At most bus stops it has up the number(s) of bus(s) that stop there, a route map with a "vous et ici" (you are here) sticker, & the name of the stop you are at. This can be very useful if you are lost, or trying to plan a trip across town. Many of the buses were modern, & had air conditioning. Taxis are very expensive. Petrol was about 6.50FF per litre, which is slightly cheaper than in the UK. There is a 24*7 Shell garage near the Eden. There are loads of banks, cash machines, & bureau de change scattered around town. We were getting about 9.75FF to the pound although it is over 10 now.
Most museums plus some shops close from around 12:00 to 14:00 everyday, & one day per week often Monday although it varies. The smaller museums charge 25FF, & the larger ones more to get in. The Henri Matisse museum is closed for the duration of the Jazz Festival, & for a couple of days beforehand. The Jazz Festival was the 10th to 17th July this year. We didn't go, but I think the tickets were about 150FF per night, & they had two stages. The Carnival is from February 10th to March 7th in 00. I haven't seen the dates for the Jazz Festival in 00, but assume it would be early July again. The Cannes Film Festival is in May each year.
Tipping is welcome in cafes, & we usually left around 10% in cash provided the service was OK. Most cafes will take plastic. Food is expensive in Europe in general, & France especially. If you are on a tight budget, or just tight then a good way to keep the cost down is to use the local supermarkets, markets, & boulangerie (bakers) for snacks, & drinks. There are loads of free seats on the prom., & some shady areas. Large parts of the beach are free, or you can pay for a lounger, & shade if you wish, which was about 50FF per day. Also, they have all the usual diversions like jet skis, paracending, water skiing... from the beach at extra cost.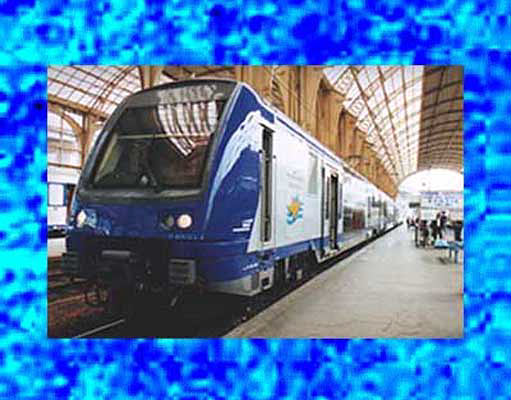 At the main SNCF station you should buy your tickets before you board. I'm not sure how it works at the smaller stations around town? There are ticket machines at the main station that take FF in cash, or you join the queue. You need cash for tickets less than 100FF, but you can pay by plastic for larger amounts. The trains are usually frequent, clean, on time, & reasonably well priced. EG Nice to Cannes was 48FF return, & there were two, or three trains per hour each way. The fast TGV service does stop in Nice, but is extra. You can even go to Italy for the day as it is not far away. Near the main station there are a couple of car rental offices, & a large post office. You can get 3FF stamps from a machine for postcards, or take a number, & queue. The brickwork on the outside of the building is worth a quick look.
The narrow gauge train goes to Digne eventually. It takes over three hours for the whole trip, & the trains run at something like 07:00, 09:00, 12:00, & 15:00 from Nice. Annot is about two thirds of the way . Sometimes they have steam trains, which stop at Annot. These little trains go from a different station to the SNCF trains, but it is near the main station, & sign posted. If you want to do the whole trip it costs about 300FF return each for adults, & you can pay with plastic.
Other places you can easily visit include Grasse, St. Jean Cap Ferrat, Juans-les-Pans, Vence, & Eze. Around Nice there are also museums, or galleries for Asian arts, naval history, local history, ancient history, natural history, modern art, & some preserved villas... There are markets for vegetables, flowers, crafts, fish, antiques, collectibles, & more at various locations, & times.
Links
I can't be responsible for the content of these sites.

easyJet who we flew with.

Museum info for Matisse, Chagall, Picasso...

Beyond Nice where we found out about the railway, & walks...
Now with added Facebook
You can mail me r_coughlan@yahoo.co.uk