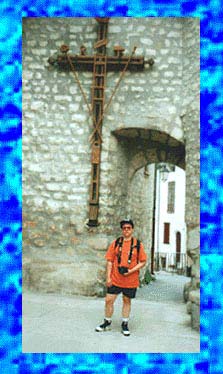 Your "reporter" doing the old stand infront of something routine. This was taken in Annot village. The tiny square I was standing in contained a small church, & some private cottages plus this unusual cross.


The Museum of Fine Arts is well worth a visit with a small, but good quality collection in an attractive building surrounded by a small park.


The Russian Cathedral is great for a visit, which costs FF12 if I remember correctly? The inside is richly decorated with many icons...

The "Jockeys" are by the port in Antibes, & there is also a single one on top of the town wall.
If you want to park in the Casino Square just bring your Ferrari, & I am sure they will find you a space.
Vivid red dragonfly at the pond in the Botanical Garden in Nice.
Link to more Dragonfly pictures.
The market is held most days in the old town. The food, & flowers were well displayed, & there are loads of cafes too. In the evening craft stalls take over.
Nice Harbor at sunset with it's waterside bars, & cafes. There are plenty of gin palaces, but also fishing boats, & ferries. You can organise a pleasure trip, or a dive here also.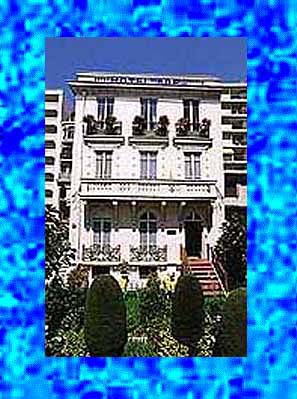 Front view of the hotel Eden. It is at 99 Promenade des Anglais, & set back from the road just behind 100 in fact. It has a small patio area.
Double decker train at Nice Gare SNCF. A fine building inside even if it is under a fly over.
Now with added Facebook
You can mail me r_coughlan@yahoo.co.uk